Halloween will even be scarier this year with these animated Halloween decorations! We found a lot of new Halloween animatronics that are sure to creep out the neighbors and any trick or treaters knocking on your front door!
Best Animated Halloween Decorations
Our posts may contain affiliate links, but all opinions are our own. As an Amazon Associate we earn from qualifying purchases.
Animated Witch Halloween Prop
From her soulless red flashing eyes to her deeply wrinkled cheeks and her scary toothless grin, this animated witch is sure to scare off an unsuspecting person or 2.
Her sensors are activated by motions and/or sounds and that is when she pops up to ask you a few creepy questions. Don't answer!
Southern Belle from Hell Animatronic
Rumor has it this Southern Belle got left at the altar and has been roaming the graveyards for years. The animatronic is activated by sensors and move, talks, and lights up.
Dressed in a ripped dress and black veil with a white face, black lips, and red flashing eyes with dark circles, she's sure to scare up the neighborhood
Werewolf Animatronic with Green Flashing Eyes
This poseable Halloween werewolf is perfect for your indoor or (covered) outdoor décor. The werewolf lights up, howls and comes with bendable arms that move into horrifying positions.
The animated Halloween prop comes with a hanging loop, so it's great for scaring people from above!
Life-Size Animatronic Reaper Prop
"Don't fear the reaper" they said, but when the reaper looks like this, run, don't walk!
This animated Halloween prop lights up, moans, and cries out 4 scary phrases.
Sweet Dreams Clown Animated Prop
Is there anything scarier than a clown? This one sure is! He's wearing a black and white costume and has green glowing eyes that look really creepy at night!
This creepy clown is holding a little girl by the feet and comes with 3 terrifying sayings:
("maniacal laughter", "Oh look what I have here (child screams), a new volunteer for my juggling act!

"Wakey wakey, rise and shine sleepy head! (child screams) This should teach you to always look under your bed! (child screams) And in your closet hahaha! (child screams)"

(child screams) "Looks like I have a live one (child screams) – but not for long hehehe! (child screams)"
This is a fully animated prop and comes with 3 activation options: steady-on, step here pad, or infra-red sensor.
3.8 Ft Mommy's Favorite Animatronic
This Mommy's Favorite animatronic say's creepy things like: "Shhh! You don't want to wake up my mother. She's been sleeping for a long time."
"Shhh! Can you keep a secret? Shhh!". It comes with volume control and is great for greeting guests on a covered porch.
---
Sitting Scarecrow Animated Prop
Fill this animated scarecrow's bowl with candy and watch if any trick or treaters dare to put their hands into it! Be sure to use earplugs to protect against the screams!
---
Brown Jumping Animated Spider
Spiders are gross, scary, and work very well in Halloween decor. Take it up a notch this year with this animated, jumping creepster!
Its jumping motion is activated by sound or motion, so this is perfect for a haunted house.
---
Evil Clown Animatronic Ferris Wheel
This animated Ferris wheel measures 6 feet tall and comes with 5 gondolas carrying 5 scary, creepy clowns. It spins around and plays haunting music, that can be toned down thanks to the volume controller.
It's a pretty large animated Halloween prop, so make sure you have the space for this one!
---
Striking Snake Animated Halloween Prop
This realistic 15-inch-tall snake prop looks & sounds just like a rattlesnake as it strikes its prey, making hissing sounds, red eyes glowing and shaking its tail to intimidate your guests.
It's battery-operated & motion-activated and will frighten your guests when they least expect it.
---
Creepy Pumpkin Carver Halloween Animatronic
This not-so-innocent little girl is about to carve this pumpkin a new face. Well, we can only hope she's aiming for the pumpkin….!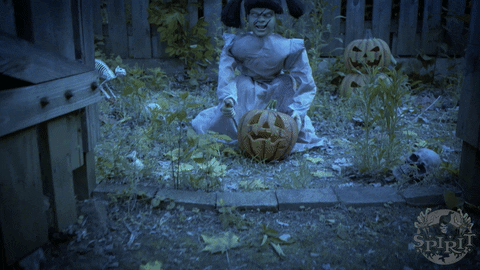 ---
Animated Rocking Horse Girl
This creepy girlie rides a rocking horse with a decapitated horse head.
The little "sweetheart" also talks and sings with a creepy version of "ring around Rosie" while her eyes light up.
Perfect if you want to create your own haunted playroom. We somehow doubt kids want to play there though!
---
Animated Haunted Toy Box
Speaking of haunted playrooms: Check out this Animated Haunted Toy Box!
It holds an evil clown, a creepy doll, and a stitched-up teddy bear. The toy box comes with a sensor that makes the toys pop up and say "sweet" things like "Would you like to come with us?"
Obviously not suitable for a child's playroom.
---
Boogeyman Animated Decor
This 7 feet (gulp!) boogeyman skeleton holds a child that screams while he laughs eerily, lights up his eyes and turns his head and torso from side to side.
More Halloween Ideas